Download - Så Länge Hjärtat Slår - Hair
All hairs comes in the four of Pooklet´s colors that I use namely Dynamite, Depth Charge, Pyrotechnic and Volatile. Mail Bomb is included as a separate file. Files are binned and familied and elders get grey hair.

The original swatch that I used to make my own was made by Poettchen.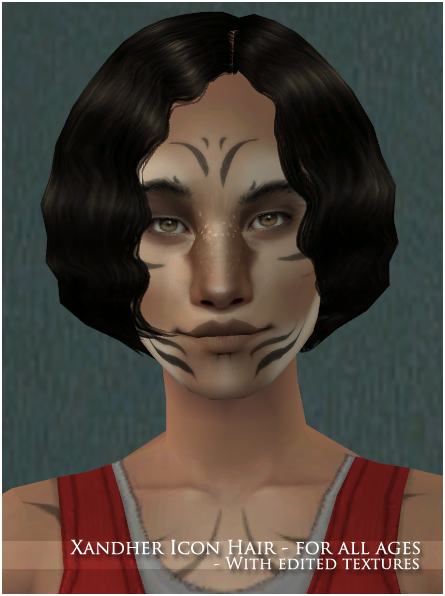 First up is a hair by Xandher. I snagged it from Poettchen´s DW and edited the textures using textures by Pooklet and Nymphy. I also made meshes for all ages :D
I put the new meshes for PF, CF and TF in a separate file. You will need both mesh files for this hair to show up for all ages in your game.
-->
DOWNLOAD Xandher Idol - All Ages
<--
Credits:
Textures - Xandher, Poettchen, Nymphy, Nouk and Pooklet
Mesh - Xandher
Second up is a F2M-conversion of the beautiful hair that Iosaur posted on her LJ/DW the other day. As the original hair worked for all ages so does this one :3
-->
DOWNLOAD NewSea Treasure F2M
<--
Credits:
Textures and colors - Pooklet
Re-texture - Iosaur
Original mesh - NewSea


Third up is another F2M-conversion, this time of a hair made by Nouk. I converted the Pookleted version that Simbic posted on her LJ so credits to her for the Pookleted textures :]
Once again ~all ages~
You will need both the female mesh-file as well as the additional file for AM and TM for the hair to show up for all ages. Both files are included in the .zip.
-->
DOWNLOAD Nouk Loose Dreads F2M
<--
Credits:
Original mesh and textures - Nouk
Recolor - Simbic
Colors - Pooklet
Last but not least I Pookleted Raon´s latest free hair(s). There is a little twist, though. As I think most short hairs should be available for all ages I made PU and CU-meshes. Please delete the original mesh-files before you put these in your downloads-folder unless you want duplicates. The original filenames are pretty much the same as my own with the only difference that I added "-EDITED" towards the end of my edited mesh-files.
-->
DOWNLOAD Raon M44 Pookleted
<--
-->
DOWNLOAD Raon F102 Pookleted
<--
Credits:

Mesh - Raonsims
Textures and colors - Pooklet
Comments {18}